Cantaloupe Smoothie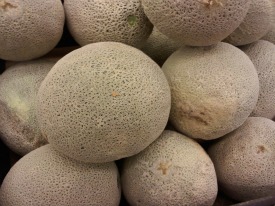 Have you ever tried a cantaloupe smoothie?
Why not?
The best part about summer is the fresh melons, hands down.
Watermelon, honeydew, cantaloupe.
Even better if it's organic.
My new morning ritual for summer is getting up and cutting up a bunch of fresh melon to take with me to work, to enjoy as an oh-so-refreshing afternoon snack.
Nothing tastes better in the hot afternoon, after lunch, and it sure beats snacking on chocolate covered almonds or the other junk food I keep on hand.
So in the name of variety, why not try a cantaloupe smoothie?
I bet you'll be surprised by how good it tastes and how refreshing it turns out.
I know I hesitated for a while, just because I had never made a cantaloupe smoothie before, but finally I tried one and it turned out great!
Here is my recipe…
Cantaloupe Smoothie Recipe

2 bananas
1 cup fresh cantaloupe
1 apple
About 1/2 cup to 1 cup fresh spinach
½ cup water
1 cup ice
Optional: 1 tbsp chia seeds
Instructions
Add all ingredients to blender in the order listed above.
Break the bananas into small chunks before tossing in the blender, and cut the cantaloupe into small squares (remove the seeds).
If you are using a regular blender (not a high-powered blender such as Vita-Mix), you may want to blend in phases so it blends without any problems:
First add all the fruit and the water, blend until it forms a nice liquid.
Then add the spinach and chia, blend again until it's all one nice liquid.
Finally add the ice – at this point it is much easier to blend ice with liquid instead of adding it all in the beginning and overwhelming the blender.
For more tips and tricks visit the How to Make a Smoothie section of this site.
Make it a Fruit Smoothie
Don't like spinach?
Just want a refreshing sweet fruit smoothie, without any greens to get in the way?
That's totally fine.
I hear you.
Sometimes I'm just in the mood for a fruit smoothie, without any greens, even though I know that
adding greens to my smoothie
greatly enhances its nutrition.
Sometimes you're not looking for optimal nutrition, you just want a naturally sweet healthy snack.
To make this a regular fruit smoothie, feel free to leave out the spinach.
It will still turn out delicious.
You can also try
adding an additional fresh fruit such as strawberries
to fill the void (optional).
Maybe you don't like spinach at all? Never tried a spinach smoothie?
If you have never had spinach in a smoothie and you just object to the entire idea of a spinach smoothie, I urge you to learn more about these incredibly delicious
green drinks
and how you can enjoy them even if you
don't
like spinach or salads.
Results
That's it!
It's such an easy smoothie to make, and the results are so worth it.
How did you like it?
Or did you have any questions about how to make this cantaloupe smoothie?
Please feel free to leave a comment or question about this smoothie in the comment box below.
I would love to hear your feedback and answer any questions you may have.
Tongue-tied?
If you don't have any questions or comments, then maybe it's time to move on to the next smoothie.
Try one of these related recipes…
Related Links:
More Summer Smoothie Recipes
Fresh Fruit Summer Superfood Smoothie Recipes
Back from Cantaloupe Smoothie to Fruit Smoothie Recipes
Back to Green Smoothie Recipes
Back to Joy of Smoothies Home Page