Healthy and Fun Fruit Smoothie Recipes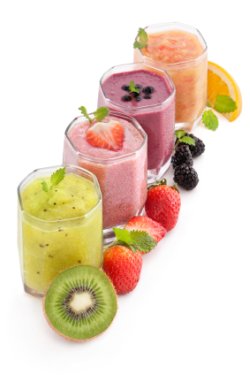 These are some of my favorite healthy fruit smoothie recipes fruit smoothie recipes. Fruit smoothies form an absolute staple in my healthy diet and active lifestyle. I drink at least one per day.
I love the ice-cold texture and the yummy mixture of fruit flavors, not just on hot summer days but even on cold winter days, especially right after a hard workout.
What's not to love about homemade fruit smoothies?
It's incredibly fast and easy to make. I can have one done in 10 minutes or less, and it was the first easy recipe I learned to cook when I was 10 years old. Anyone can make a delicious fruit smoothie.
It's a great way to work healthy eating and lots of nutrients into your life if you're a busy person like me.
And the cold, smooth and refreshing texture of healthy fruit smoothies keeps me full and satisfied, making me less likely to crave ice cream and junk food. It helps me lose weight and stay healthy.
Fruit shakes are awesome any time of day – from breakfast to dessert or any time in between. It is perfect as a meal replacement or as a healthy snack.
Are you still new to making smoothies? It's easy, all you need is a blender.
But if want some excellent tips on the best techniques and smoothie ingredients, be sure to first read about how to make a fruit smoothie. Then return to this page and choose your free recipe!
Don't fall into the rut of making the same fruit smoothie every day. Below you will find my absolute favorite fruit shake recipes. Some are easy, old favorites, while others add a fun new twist.
I hope you enjoy! Be sure to tell me what you think about these fruit smoothie recipes in the comments below :)
Fruit Smoothies Recipes
Just getting started? Try this super easy homemade fruit smoothie to start.
Or click on a fruit below to go straight to the recipe starring the fruit of your choice...
More Fruit Shake Recipes
Don't see the fruit that you want here, or have another fruit smoothie to suggest? Leave a comment in the comment area below, or click here to Contact Me.
I would love to hear your suggestions for more recipes, as I will be continually adding more and more delectable fruit smoothie ideas to this site!
And don't forget to check out these other areas of the website that also feature fruit drinks:

Green Smoothie Recipes - Fruit smoothies with an even healthier twist! If you're the kind of person who knows you should eat more salad, but can't stand to actually do so, these naturally good-tasting green smoothies just might be the solution for you.
Tropical Smoothie Recipes - Fruit shakes inspired by those far-off tropical islands you've always dreamed about visiting.
Superfood Smoothies - Supercharge your plain old fruit shakes with these tips from a top endurance athlete to give your frozen drinks a nutrition and energizing boost.
Back from Fruit Smoothie Recipes to Joy of Smoothies Home