How to Make a Smoothie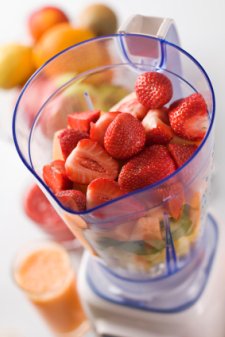 Learn how to make a smoothie with this easy free guide
Maybe it's your first smoothie, and you need basic guidance on how to make smoothies.
Or you already have some experience making smoothies and want to get even better.
Here you'll learn everything you need to know about how to use the smoothie recipes on this site or invent your own, choose the best blenders, smoothie ingredients and get the right consistency.
I learned how to make a smoothie a long time ago, and I love teaching others how to make smoothies.
It all started when I was about 10 years old and received my first cookbook as a Christmas gift, Kid's Cookbook by Williams-Sonoma.
Most of the recipes in that book were too complicated for me at that age, but the very first recipe I learned to make was a strawberry banana smoothie with orange juice.
From that moment on, I was completely hooked! I made more and more smoothies, experimenting with different fruits and juices and other smoothie ingredients.
Soon I got tired of looking at recipes and measuring out ingredients, and I learned how to create my own perfect ratios by eyeballing the ingredients.
I continued making smoothies throughout high school and college to fuel my various athletic and fitness activities, including cross-country running and strength training, just to name a few.
If a 10 year old can learn how to make a smoothie, so can you!
How to Make a Smoothie: 5 Easy Steps
It's incredibly easy to learn how to make a smoothie, once you get down the basics. Here's what you need to know to get started:

Step 1: Get the Right Equipment
Choose a Blender
Luckily, smoothies don't require much fancy equipment. In fact, you probably already have most of what you need in your kitchen.
No matter what, you need a blender. They come in many different shapes, sizes, styles, and speeds.
For those of you just starting out or on limited budgets, you can get a simple, low-tech blender at stores like Target, Wal-Mart, Costco, etc. You don't need to spend a fortune, and you can still make great smoothies. I have had good luck with the Oster brand.

If you're looking to take your smoothies and healthy eating to the next level, you may consider splurging on a high-tech, high-power blender. Mid-range options include Ninja and Health Master, while high-end options are Vita Mix and Blendtec.

The most important is that you choose a blender that works for your needs and purposes. It doesn't have to be super high-end, but I almost never buy the absolute cheapest model possible, usually mid-range for decent quality.
Click here to find out which are the best blenders out there...in every price range.

Smoothie Cup or Mug

Another piece of optional equipment is a smoothie cup or mug. Again, doesn't have to be fancy. But this turns out to be very important for me as I like to take my smoothies with me on the go, such as to work.
Step 2: To Use a Recipe or Not?
On this site you can find oodles of free smoothie recipes, including fruit smoothie recipes, tropical smoothie recipes, green smoothie recipes, superfood smoothie recipes and more.

But you may or may not want to follow a recipe exactly. Some people just don't like following recipes, even easy recipes.
There are several options for how you can use (or not use) smoothie recipes, depending on your experience level:
Beginner: Follow the recipe exactly, including all measurements and ingredients. Some may consider this the "easy way out

,"

but there is absolutely nothing wrong with this option, especially if you're just getting started.
Intermediate 1: Follow the recipe exactly but eyeball the measurements instead of measuring them all. I find this option much less tedious.
Intermediate 2: Use the recipe as an idea or inspiration, but modify it based on what you have on hand, what's in season, your own personal tastes, etc. This is the most practical option.
Advanced: Invent your own recipe! Use what you have on hand without looking up recipes. This is the fastest way, but you still need to know how to combine the ingredients right…
Step 3: Choose the Right Ingredients
You can safely skip this step if you choose to follow the recipe exactly :)
The following smoothie ingredients are absolutely essential:
Fruit – You may choose to use fresh fruit or frozen fruit, or both. When choosing your fruits, maximize your nutrition by learning the health benefits of each fruit. And check out this page on the best fresh fruit smoothie bases.

Liquid – Every smoothie needs a liquid base. If you choose to use milk, you have several options including dairy milk, soy milk, almond milk or coconut milk. You can also use water or juice. Click on any of those liquid bases to learn more about the health benefits of each option.
Ice - Not everyone may agree, but this is also an essential for me. I love my smoothies with that cold, creamy, icy texture. It's what makes it so smooth and refreshing!
You can make awesome fruit shakes with just those ingredients. I bet you already have all of them in your own kitchen!
But you can make your smoothie even better with these optional add-in smoothie ingredients:
Yogurt
Peanut butter or almond butter
Flaxseed or other seeds
Cereal or oatmeal
Spinach or other leafy greens
You can find some combination of the above ingredients in virtually all my smoothies. But you can also take it a step further with other "superfood" smoothie ingredients.

Or go in the opposite direction, making your smoothie more indulgent than healthy, by adding ice cream, honey or other sweeteners.
Step 4: Add It to the Blender
The next step is to add it all to the blender. But hold your horses....before you go adding a bunch of smoothie ingredients to the blender all at once, you want to make sure you have a process in place to add the ingredients in the right order and avoid blending difficulties.

Click here to learn how to make smoothies with that just-right consistency, including the right order of adding ingredients, how much of each ingredient to add, and how to eyeball it to get your measurements just right without a tedious measurement process. 

Step 5: Blend It!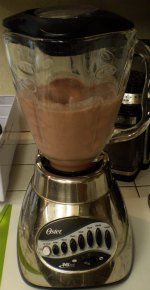 This is the easiest part. Just push the button and go.
If your blender has multiple speeds, you'll want to use a lower speed for blending liquids and soft solids together first.
Switch to a higher speed to break up ice and frozen fruits.
Then, after about 30 seconds, gradually work your way down to a lower setting for a smoother consistency.
The whole process should take under a minute total, once you get the hang of it :)
Step 6: Enjoy and Share!

OK, I know I promised only 5 steps. But this is the most fun part! Now that you've used the resources on this page to learn how to make a smoothie on your own, don't keep it all to yourself.
Share your creations with families, friends, in real life and on Facebook (extra kudos if you hit the "like" or "share" button below to share this page...help spread the word and help them learn how to make a smoothie too).
Let us know how your experience went with making smoothies...by leaving a comment in the box below.
And if you have any questions about how to make a smoothie, please feel free to contact me with any lingering doubts you may have.  Or click here to read frequently asked questions about making smoothies the right texture.
Want to see a live example in action? Here's an easy fruit smoothie recipe demo

Back from How to Make a Smoothie to Joy of Smoothies Home