Strawberry Banana Pina Colada Smoothie Part II: The Recipe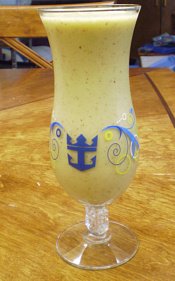 Ready for a pina colada smoothie recipe that is both delicious AND healthy?

On the last page we determined that the non-alcoholic pina colada smoothie beats out the typical pina colada cocktail drink on all health criteria.
Now it's time to learn how to actually make this healthy party drink...

Drink Your Way to Better Health
Let's face it...we don't get enough fruit and vegetables in our daily diets. We all know that. So I am very much in favor of a delicious drink that gets me almost half way there.
If that's not good enough, the recipe I'm about to give you makes 3 cups of this delicious drink.
That means that if you sip this smoothie throughout the day (which is what I do), you're pretty much set for your recommended daily servings of fruit, and making good progress on your vegetables... This one drink gives you a total of 6 servings of fruit, and 3 servings of vegetables.
If you want more veggies, just toss in more spinach...you won't notice it anyways in the taste of the smoothie, and spinach is extremely low in calories. 
The extra spinach will fill you up even more without increasing the overall calorie/fat/sugar counts by much.
The alcoholic drinks we can't get enough of in this society are taking a huge toll on our bodies…it's time to take back our bodies and give it the good nutrients it deserves!
And the best way to do that? With healthy drinks that taste good too!

Pina Colada Smoothie: The Recipe

So, do I have your mouth watering yet?
Are you ready to try a frozen drink that is not only much healthier than the frozen cocktail but also just as delicious?
It might even be more delicious than the cocktail, seeing as it's made from all natural ingredients...nothing artificial or sickly sweet about it.
So without further ado, here is the recipe. I hope you like it...and tell us all what you think!
Ingredients
2 whole bananas
6 whole strawberries
1 cup frozen pineapple tidbits
2 cups spinach
¼ cup light coconut milk
¼ cup water
1 cup ice


I buy the frozen pineapple tidbits from Trader Joe's, as well as the light coconut milk (it comes in a can).
Just make sure you get light coconut milk as the regular coconut milk adds a lot more fat calories.
Click on any of the ingredients above that are links to learn about the nutrition data for that particular ingredient.
Instructions
Below is the step-by-step process for making this smoothie with a regular blender.  If you have a high-powered blender, you can ignore these steps and just add everything at once.
Add the fruit to the blender first, then add the spinach and liquids.
Blend for a few seconds to turn it into a liquid puree.
Then add the ice, and blend more until it is completely smooth.
Give it a little taste test, and add more liquid or ice as needed, to get the texture just right.
For more tips on making the perfect smoothie consistency, be sure to visit the how to make a smoothie section of this website for more tips.
Last but not least, enjoy!
The Final Product

So there you have it...a delicious frozen drink that's actually good for you!
Yes, that's right. It's not just "low calorie" or a little better than the alcoholic alternative.
Drinking this pina colada smoothie will actually put you on the path to good health.
It's a great way to drink your salad, or sneak in more nutrients without even realizing it.
Your body can't resist your healthy eating efforts if you make it taste so good!
I know when I first tried this smoothie, I couldn't believe how mouth-watering good it was.
What about you? What did you think of this recipe?
Be sure to leave a comment below and tell us all what you think...and tell your friends about it too!
And next time you have a pool party, or any kind of party, consider serving this instead of your normal pina colada cocktail.
Who knows, you might just start a new healthy eating trend among your friends...
And we all know the most fun part about parties is getting everyone together, not the junky drinks we're so used to having.
So let's say goodbye to destructive drinks and say hello to what's good for us :)
Related Links

If you liked this non-alcoholic tropical pina colada smoothie, I'm sure you'll love this frozen mojito smoothie recipe.
Can't get enough of that strawberry banana taste? Find more strawberry banana smoothie recipes here.
Curious why I used spinach in a smoothie? Or water? Click the links to learn more about green smoothies.
Just now joining us? Missed the first part, the nutrition analysis? Click here to learn more about why this pina colada fruit shake is so much more healthy than your typical pina colada cocktail.


Back from Pina Colada Smoothie Recipe to Tropical Smoothie Recipes

Back from Pina Colada Smoothie Recipe to Joy of Smoothies Home