Pina Colada Smoothie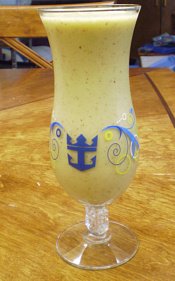 Have you ever tried a Pina Colada Smoothie?
No, I don't mean those sugary drinks you order at the pool bar.....although I must admit I may have enjoyed my fair share of those kind as well ;)
But if you like those kinds of pina coladas, you're in for a real treat with this pina colada fruit shake recipe! Why?
You get to enjoy the same delicious blend of exotic flavors, yummy enough to whisk you away to your own tropical paradise (at least in your mind)...

And the best part?
It's actually good for you!
So ditch the alcohol and give this non alcoholic pina colada frozen drink a try today!
Healthy eating doesn't mean you have to abandon your favorite indulgent treats...
Why Pina Colada Smoothie? A Comparison

Wondering just why this pina colada drinnk is so much better than the pina colada frozen drinks you buy at the pool bar?
Let's take a quick look at the nutrition facts of the two options, side by side...
Traditional Pina Colada Alcoholic Beverage - Nutrition Info

Let's say you have 8 ounces (1 cup) of pina colada.
If you order it at the pool bar, it will likely be even more because those cups are big!
One cup of a frozen pina colada cocktail has the following:
490 Calories
5 grams of Fat
64 grams of Carbs, of which 63 grams are from Sugar and 1 gram Dietary Fiber
1 gram of Protein
The Alternative: Pina Colada Smoothie - Nutrition Info

How does this pina colada fruit shake recipe compare?
One cup of this frozen pina colada drink has approximately:
350 Calories
3 grams of Fat
85 grams of Carbs, of which 48 grams are from Sugar and 9 grams Dietary Fiber
5 gram of Protein
Think that's not a big difference?
This smoothie has 25% less calories...for a drink that still tastes good, that's not bad!
But the calories count doesn't tell the full story.
The composition of these two drinks is very different.
This pina colada tropical smoothie has 40% less fat, and most of the fat comes from the coconut milk which is a healthy source of monounsaturated fat (comes from nuts).
It also has 25% less sugar, 5 times as much protein, and 9 times as much fiber!
You can cut out even more of the sugar by using unsweetened coconut milk.
The thing is, most of the sugar in this drink comes from fruit, which is a natural form of sugar that isn't as hard on the body as the syrupy artificialkind that comes in regular pina coladas.

The Winner: Pina Colada Smoothie!

To sum it up, this pina colada fruit shake is a healthy snack you can drink throughout the day.
One serving (a cup) has almost two full servings of fruit, and about one full serving of leafy green vegetables.
Can the alcoholic drink you order at the pool bar boast the same benefits?
I think not...and I can pretty much guarantee it's loaded with artificial flavors and processed sugar instead of fresh, natural, whole ingredients.
So not only is this smoothie recipe lower in overall calories and lower in all the bad nutrients (i.e. fat and sugar), it's also loaded with GOOD nutrients that your body needs....
That includes nutrients such as Vitamin A, Vitamin C, Iron, Calcium, and Potassium.
Oh and the best part?
A pina colada cocktail will probably cost you $8-$10 at the bar.
And I'm pretty sure you can make this smoothie at home for $1 or less using ingredients you may already have in your kitchen.
So it's good for your wallet too :)
Ready for the Recipe?

Is your mouth watering, ready to try a pina colada smoothie that's both healthy AND delicious?
If not, go back and read the above.
Otherwise, if the answer is yes...
***Click here to move on to the delicious healthy Pina Colada Recipe***



Back from Pina Colada Smoothie to Tropical Smoothie Recipes

Back from Pina Colada Smoothie to Joy of Smoothies Home