Healthy Breakfast Smoothie -
Green Smoothie Diet Challenge Day 3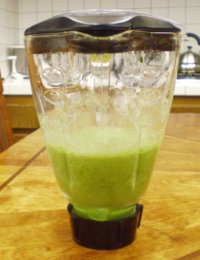 Breakfast smoothie? Check. Energy smoothie "To Go" to bring to work? Check.
This is an account of Day 3 of my Green Smoothie Diet Challenge — the adventure continues :)
Where did we leave off? Oh yeah. I survived Day 1 and Day 2 of my new job, in large part due to my new green smoothie habit. That took me to Wednesday, the infamous "Hump Day."
There's something about Wednesday that's especially hard to get through.
You're getting there, almost at the weekend, so close yet so far.
You already have 2 days of work behind you and you're exhausted as a result of the cumulative effort, but you still have 3 full days of work to go.
If you can just make it through Hump Day, the week is yours...
What's the best way to make it through Hump Day?
Glad you asked...with a green smoothie, of course!
Oh, and one other secret "bonus" tip which you'll find below...
Smoothie Recipes of the Day
The two best investments you can make in your health and energy for the day are:
Start things off with a healthy breakfast smoothie
Follow that up with another green smoothie to sip during the day.
Read on for one of each type of recipe...
Breakfast Smoothie Recipe
Frozen mango chunks
Frozen mixed berries
Mixed herbs (I bought a bag from Trader Joe's)
2 tbsp protein powder (I used brown rice protein powder but any kind will do)
Water
Ice
"To Go" Banana Smoothie Recipe
How to Make These Green Smoothie Recipes
If you're trying to fit a green smoothie challenge into your busy work week or generally hectic lifestyle like me, chances are you're short on time.
So what's the best way to make these green smoothie recipes?
Eyeball it! I personally don't have time to measure things out first thing in the morning.
If you're new to making healthy smoothies and need more direction, don't panic!
I recommend you start by checking out some of the fruit smoothie recipes on this site which do have measurements indicated.
I also give some helpful tips in the How to Make a Smoothie section of the site, but here are some specific ideas to get you started right now:
Making Green Smoothies Without Exact Measurements
Get some practice making basic homemade smoothie recipes and you'll get a sense for the right ratios of smoothie ingredients, without being a slave to your measuring cup.
Then come back here and use these green smoothie recipes as a basic guide or inspiration for different possible variations.
Jot down some of these ingredients as you do your weekly grocery shopping trip and stock up on healthy smoothie ingredients so you're always ready to go.
Or just use whatever you have on hand in your kitchen, making substitutions as necessary.
Bottom line? Don't be afraid to experiment! If you mess up the proportions when making smoothies, it's easy to fix: either add more liquid, more ice, or more fruit.
You can't go too wrong especially with green smoothies which have relatively few ingredients.
More About These Green Smoothie Recipes
Note about the Breakfast Smoothie:
This breakfast smoothie was my first attempt graduating from my usual "beginner" green smoothie recipes to a more advanced recipe.
Instead of using spinach or romaine lettuce which both have a rather mild flavor that you barely notice in the smoothie, I experimented with rotating my greens and tossed in some mixed herbs instead.
The herbs definitely had a stronger taste, and to be quite honest it tasted a bit weird at first, almost offensive to my taste buds. But after awhile I got used to it and enjoyed the smoothie.
I definitely recommend that you experiment with different green leafy vegetables. Just be prepared for some surprising tastes and give your taste buds some time to adjust to these new flavors before you give up on a new green.
Note about the "To Go" Smoothie:

I was pleased that this recipe made 4 cups!
3 bananas in one smoothie might seem shocking at first, but it's really a great way to give your smoothie substance.
You then end up with enough healthy smoothie to last you the entire day. Talk about a healthy snack. It definitely beats snacking on chips and candy at your desk.
Stock Up On Fruit

My best piece of advice? Stock up on several bunches of bananas early in the week, and use them liberally: The nutrition benefits of bananas are amazing!
Mango nutrition is also quite impressive. Trader Joe's frozen mango chunks make it easy to stay stocked up.
Not Enough Water?

One issue with this smoothie was that I didn't use quite enough water, so it was a bit goopy by the time I poured myself some at work.
There's an easy solution to this problem: just add a little bit of water and stir it with a spoon or fork.
I did that and it came out fine.
My coworkers even saw me doing this, but they didn't say anything. I guess you could say I was caught in the act of healthy eating ;)
Green Smoothie Diet Challenge Day 3 Results
These fruit shakes are seriously what kept me going through the day.
Nothing beats starting off the day with a healthy breakfast smoothie, jumpstarting your metabolism, and then keeping it going throughout the day.
It seemed like I was always either drinking some healthy smoothie, or walking to the kitchen to refill. It was an easy quick break and small burst of physical activity.
I actually ended up with a lot left over—I was too full to finish it!
There were only 1 or 2 times when I was slightly hungry during the day, and when I wasn't drinking more smoothie, I snacked on either fresh blueberries, other fresh fruit or baby carrots.
It was very important for me to sip water constantly throughout the day alongside my smoothie. I also had one mug of green tea which gave me a warm and soothing extra energy boost.
I felt satisfied with a moderate lunch and a light dinner before going off to dance salsa for 3 hours that evening...which by the way is another great way to overcome Hump Day!
These green smoothies really seem to be an effective way to increase energy levels at work, which was one of the main goals of my challenge, besides generally healthy eating.
What's Next?
I hope you enjoyed these breakfast smoothie and "to go" smoothie recipes.
Just now jumping in? Be sure to see the Green Smoothie Diet Challenge Introduction, Day 1 and Day 2 before continuing so you can get the full Smoothie Scoop.
Or click one of these links to jump to any day in the series:
Introduction | Day 1 | Day 2 | Day 3 | Day 4 | Day 5|
NEW! Join in on the Green Smoothie Challenge by taking a personal smoothie challenge in your own life, and posting your results for other Smoothie Lovers to see!
Loved the mango in this recipe? Try another delicious mango smoothie recipe!



Back from Green Smoothie Challenge Day 3 Breakfast Smoothie to Green Smoothie Recipes Home

Back from Green Smoothie Challenge Day 3 Breakfast Smoothie to Joy of Smoothies Home