Green Smoothie Diet Challenge Day 2
Are you ready to take the green smoothie diet challenge?
Just looking for some new easy green smoothie recipes?
Read below for an account of Day 2 of my "First Week of Work" Green Smoothie Diet Energy Challenge, including recipes, results and more.
Or join the fun and take the green smoothie challenge yourself!
Smoothie Recipes of the Day
Healthy Breakfast Shake – Mango Strawberry Smoothie
Frozen Mango
Fresh Strawberries
Spinach
Brown Rice Protein Powder (2 TBSP)
Ice


Fruit Shake "To Go" - Berry Mango Green Smoothie
Frozen Mango
Frozen Berries
Spinach
Brown Rice Protein Powder (2 TBSP)
Ice
Instructions – How to Make These Green Smoothies
As I mentioned in Day 1, the good thing about these smoothie recipes is you don't need to use measurements.
That's great for anybody who is short on time, and who isn't these days?
Let's be realistic, who has time first thing in the morning to measure out exact measurements?
On most days, you're lucky if you even find time to grab a cereal bar as you run out the door, let alone stop and make a healthy energy fruit shake.
So it makes sense to learn how to "eyeball" the smoothie ingredient measurements without actually measuring them out.
Don't worry; you'll develop this skill over time as you keep making more and more smoothies.
But if you're new to making smoothies, it helps to check out my how to make a smoothie page for some simple tips and techniques, including making smoothies the right texture.
Health Benefits of These Smoothies
You won't believe how delicious these smoothie recipes are until you try them for yourself.
But the best part? In addition to tasting very good, these green fruit shakes are also surprisingly incredibly healthy!
The trick is, these smoothie recipes are packed with natural superfoods that create an extremely powerful combination for your nutrition.
Learn more about the individual ingredients in these smoothies, including:
...and more at the nutrition data page!
My Strategy for Making Smoothies (Day 2)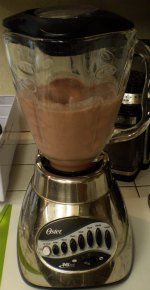 This time, instead of just making one healthy breakfast smoothie, I made two – one to drink immediately for breakfast, and one to take "to go."
I put the to-go smoothie inside a tall metal insulated coffee mug.
Then when I got to work, I put it inside the fridge.
A few times throughout the day, I poured myself a small serving of green smoothie and happily sipped away.
Green Smoothie Diet Results (Day 2)
This was a rough day.
Training for my new job is hard. It involves doing lots of reading for extremely dense, rather boring material, all day long, and then taking challenging quizzes. I struggle to stay focused and keep going.
But the good news is, the smoothie helped a ton.
It was a treat I looked forward to having—a cup every few hours.
Yes, it was that delicious that it felt like a treat. I almost forgot that it was actually healthy!
I never felt hungry, and I barely even touched the snacks I brought with me except a couple pieces of fruit.
Coffee Addiction? No Way!
I smiled to myself as my supervisor told me about his coffee addiction.
With my green energy smoothies, I don't need coffee!
It has the same effect: an energy boost, without all the negative side effects.
In fact if anything, green smoothies have POSITIVE side effects. They increase your overall health and radiance and promote healthy weight management.
I don't think coffee or any other caffeine-based energy boosters can claim that.
Sure, you could accuse me of having a smoothie addiction, but I'm perfectly OK with that :)
Day 2 Summary
Green smoothies definitely saved the day on this rough 2nd day of work.
I seriously couldn't imagine where I would be without them.
Probably chugging coffee all day, which I definitely don't want to do.
Yep, I made it through the whole day with no caffeine whatsoever.
I did have a cup of herbal tea at about 4 pm to calm me down and relax me, but I was surprised I survived all day without drinking caffeine.
It's all because of the two energy smoothies I had:
Healthy Breakfast Shake – Mango Strawberry Smoothie
Fruit Shake "To Go" - Berry Mango Green Smoothie
Green Smoothie Diet - Moving Forward
Are you new to the Green Smoothie Challenge?
Jump to the Green Smoothie Challenge Introduction or Green Smoothie Challenge Day 1 to learn more about this "1st week of work" energy smoothie challenge I took.
Or if you're completely new to green smoothies, here's a good introduction to green smoothies to get you caught up to speed.
Otherwise, continue reading about my green smoothie diet energy challenge by clicking the link below:
Green Smoothie Challenge Day 3
Or jump to any other day in the series:
Introduction | Day 1 | Day 2 | Day 3 | Day 4 | Day 5 | Join the Challenge
---
Back from Green Smoothie Challenge Day 2 to Green Smoothie Challenge Intro

Back from Green Smoothie Challenge Day 2 to Green Smoothie Recipes Home

Back from Green Smoothie Diet Challenge Day 2 to Joy of Smoothies Home